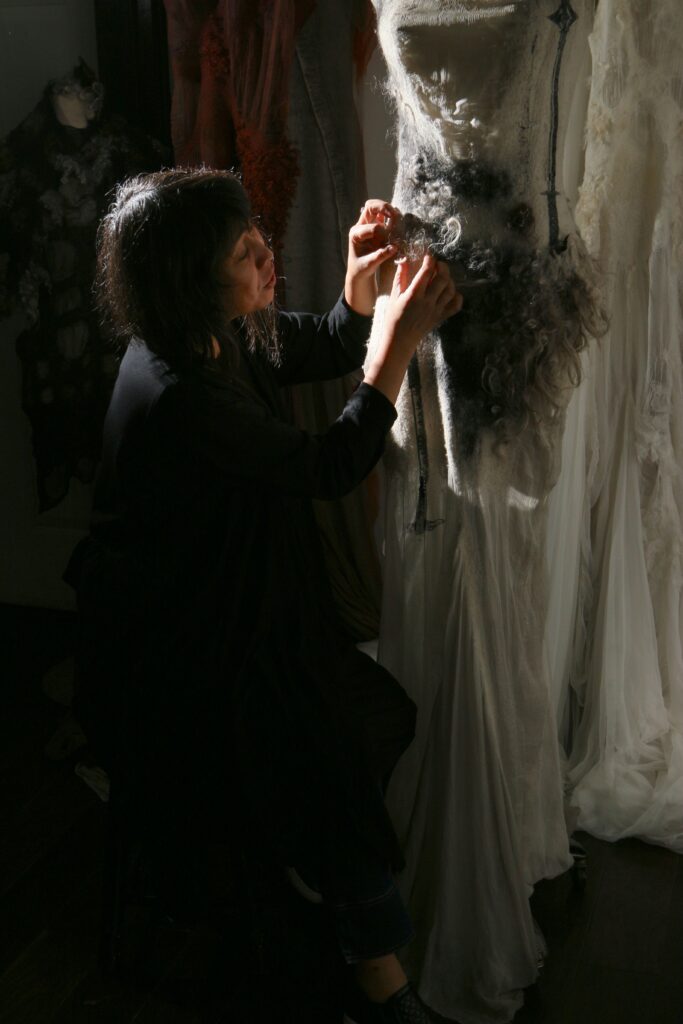 In 2003, while designing my men's jacket line, I was approached by a friend who had been storing fabric that she had salvaged from a storage space that was left unwanted. She was looking for someone to "do something special with them." The fabric was fine vintage wool salvaged from a men's tailor shop that closed down in Hollywood in the 1960s, "coincidentally" called Stewart's.
Many bolts held beautiful homespun tweeds from Scotland and London double shrunk wools. Each fabric echoed a time long ago and told a story of its own through the energy it held, thus beginning my intrigue with textiles and the salvaged materials in my designs.
Since then, I have cultivated my practice of thoughtful design, staying mindful of the environmental impact of each piece at all stages of its life cycle.
My Master's thesis was on how independent designers use post-consumer textiles in the United States.
I have created clothing, accessories, exhibition pieces, textiles, and homeware along my creative journey and have arrived at another exciting phase.
In 2010, I launched my new label MALVAR = STEWART creating beautiful accessories for women that is thought provoking and empowering, without compromising quality and regard to the environment.
In 2013, I added women's clothing, and began my first collection, X=1 under the new label. I also began exploring the wonderful world of felting, incorporating beautiful wool from local farmers.
Since then, MALVAR = STEWART has grown in recognition and scope, and continues to grow while staying true to our mission.
Thank you for your interest and for allowing me to share my God-given gift with you.
Enjoy!
Celeste Malvar-Stewart